A system of truth for human capital transactions
Total visibility over temp or perm staffing, freelancers, contractors, or SOW project work.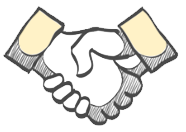 Works for both buyers and sellers
Take the pain out of invoicing
Add payments into chats with partners. Candex invoices the buyer, and transfers funds to the seller.
Your
master
provider for deals!
A lens into your business activity
Try it with your partners and you'll see the difference

Bring transactional information into the hands of the people who need it

Gain complete knowledge about what is going on around you

Save money, and make smarter decisions